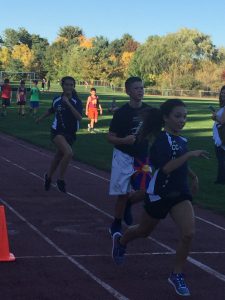 Practice: Practices are on Mondays, Wednesdays and Fridays, 3:35pm-5:00pm. Meets are on Thursdays (4 meets plus Championship Meet). First practice is Wednesday September 12, 2018.
Coach: Carolyn Reardon
Athletic Fee: $110
Are you interested in running, getting in shape and being on a competitive team sport that accommodates all ability levels? Then join the McAuliffe Cross Country team! Practices will consist of 90 minute sessions that develop endurance, running mechanics, fitness and race preparation. Races will be approximately 1.5 miles to 2.5 miles in length through various parks, woods, & trails in the Greater Boston area. McAuliffe will be defending its championship season and will need all the help it can get! There are NO CUTS for this co-ed team; if you want to participate in a team sport, then join the cross country team! If you have questions contact Coach Reardon at creardon@mcauliffecharter.org.