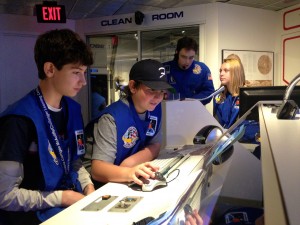 Part of each learning expedition at McAuliffe is the expectation that community service will be a key component of the work. The 2015-16 Space Expedition included a two-day beta test of The McAuliffe Center for Integrated Science Learning's new mission and planetarium show.
Each eighth grade scholar went through the Earth Odyssey mission and watched the Habitat Earth planetarium movie, then provided feedback both in person and by individual surveys. Irene Porro, Center director, was grateful for the feedback:
"The contribution the 8th grade students provided to our formative assessment work has been extremely important. We have collected the feedback the students provided, both on the Habitat Earth planetarium movie and the Earth Odyssey mission. We learned a lot from what the students told us and we will be using this valuable feedback to improve the way we implement our program with many other school groups."
Our scholars have provided a critical service to the McAuliffe Center, Framingham State University, and our community as a whole.