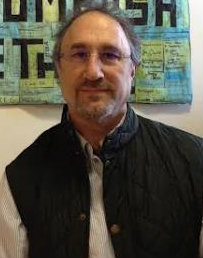 Meet Neil Aresty, an Attorney and Consultant who resides in Wayland, MA. This school year marks his fifth year on the Board of Trustees and he previously served McAuliffe as Chairperson of the Facilities Committee.
Neil learned about McAuliffe when his son (in middle school at the time) needed some extra help so they hired a tutor named Michael Delman who quickly became a friend of the family.  Michael asked Neil if he would be willing to serve on the Board of Trustees of a Charter School that he co-founded in Framingham. Neil says, "He suggested that I would bring a certain level of experience as a local lawyer and businessman to the Board."  Neil thought it would be an interesting opportunity where he could learn more about middle school education and hopefully contribute to the school's evolution and governance while helping to introduce local resources.
Neil explains that the Board of Trustees is a working board consisting of a mix of parents of students, various business people and professionals. Meetings are once a month and help to oversee the financial, governance and educational policies of the school through active delegation by committee.  The meetings are well run and provide a great opportunity to learn and understand the operation of the school.  He says, "Having a wide mix of interested people involved in the Board meetings creates a good dialog which has resulted in effective and efficient oversight of the school."
As for why he continues to serve he says, "There are two things about the Christa McAuliffe Charter School that inspire and amaze me. First, is the people. I am forever amazed at the level of enthusiasm and educational outcomes.  Second, the persistent commitment to experiential learning ("EL") as a method and model for education is powerful and successful.  The kids, or "scholars", as the school calls them, respond to the curriculum in a most positive way, setting them up to be lifelong learners.  It is very impressive." He also says that seeing the kids get excited about middle school education, witnessing their growing passion to learn and their willingness to share, respect and work hard with each other is very satisfying.
Neil feels strongly that McAuliffe is a wonderful and exciting place for kids to become exposed to the wonders of learning by doing and experiencing the world around them. He says that the educational outcomes from the EL education model appear to be successful and quite relevant in today's fast moving society. He says, "Notwithstanding the politics, I am particularly interested in seeing the success that has developed here be shared with the larger public school community."
Thank you, Neil, for your continued dedication and support of our school and community through your service!
This blog was written by Laura Richards, a McAuliffe parent  and the  President of On Point Communications.