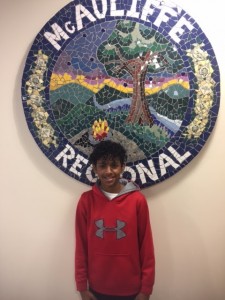 Interview by Cesar M., Daniel B., and Abby B.
Question 1:  What is your dream car?
Igor: Lamborghini
Question 2: If you could turn into any animal what would it be?
Igor: Gorilla
Question 3: What is your favorite song?
Igor: "Red Ops" by 21 Savage
Question 4: Would you rather have a pet tiger or pet polar bear?
Igor: Tiger
Question 5: What is your favorite movie?
Igor: Deadpool
Question 6: Which famous person do you want to meet?
Igor:.Odell Beckham Jr.
Question 7: If you could have one superpower what would it be?
Igor: Super Speed
Question 8: What food would you want to eat forever?
Igor: Bacon
Question 9: If you had a child, what would you name your child?
Igor: Igor Jr.
Question 10: What is your pet peeve?
Igor: When two sticky things rub together.