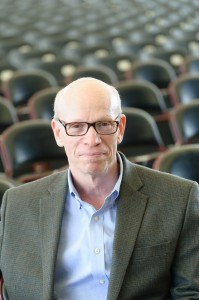 Most members of the McAuliffe community know that we are governed by a Board of Trustees but little is known about the members who comprise this group. I recently interviewed the Board Chair, Richard Voos to get to know him a bit better, to find out what brought him to us and what McAuliffe means to him.
Richard Voos lives in Boston, MA and is in his fourth year as a McAuliffe volunteer and Board member.  He is the Assistant Provost for Assessment, Planning and Accreditation at Simmons College where he's worked for nearly four years.  He spent the previous 20 years in various roles at Babson College.
When asked what brought him to McAuliffe he said, "Several things came together: I had worked closely with the Babson College Board and thought that I could bring that experience to a non-profit.  I had some experience with fundraising and marketing and guessed that kind of background might be helpful.  Most importantly, though, I wanted to connect to and give back to a sector of the education 'industry' where there was dynamic change happening."
Eventually Voos saw that McAuliffe was looking for new Board members so he looked at the website and then attended the 8th grade science space expedition culminating event.  He says, "I was incredibly impressed with the knowledge, poise and public-speaking ability of the middle schoolers.  That's what really convinced me.  Seeing the kind of culture the school was working to create, and thinking back on my own middle school experience, combined with the expeditionary learning methodology."
It's these elements, a culture of learning where every student can be his or her real self and where the learning environment is based on proven techniques that continue to inspire him and prompted him to get involved.  "Seeing our scholars and teachers in action is always energizing and exciting," he says.
In addition to knowing the difference the school makes for scholars and families, Voos is also motivated by being able to make a personal difference, "I'm energized by the time that I spend working with the Executive Director, Director of Business Operations and fellow Board members to make sure that McAuliffe is the best that it can be and always improving," he says. Voos is a financial contributor to the school and his gifts to McAuliffe have a direct impact on the school's ability to grow, build the curriculum and embark on fieldwork expeditions.  "That aspect is also very satisfying," he says.
In response to the question what would he like people to know about the Board of Trustees and the work they are doing he states that much of the work that happens occurs on the committees like Education, Finance, and others and that all of this work is open to the public.  He says, "Come to a Board or committee meeting and see what we do.  We are volunteers for the school and there are lots of other opportunities to volunteer to help!" The Board's focus as is the case with any school Board, is largely on the big picture:  financial sustainability, strategic clarity, compliance with regulations, the school leadership team's effectiveness, success, and growth.  He said, "We're always looking for additional expertise and energy."
Thank you, Richard for your continued dedication and support of our school and community through your service!
This blog was written by Laura Richards, a McAuliffe parent  and the  President of On Point Communications.